Vertical Lift Modules (VLM) are Automated Parts Storage Machines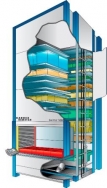 Vertical Lift Modules (VLM)
are vertically arranged trays in an enclosed system. Computerized controls deliver the trays with the stored parts to an ergonomic work counter so the operator can pick or replenish the part. These automated parts storage machines will locate and retrieve the trays from anywhere in the unit with just the push of a button or scan of a barcode.
Vertical Lift Modules (VLM) Maximize Storage Floor Space
The Vertical Lift Modules use cube utilization technology within each unit to maximize storage density. The VLM calculates the size of each tray as it is put away to store it in the least amount of space required. Also because the automated parts storage machines extend vertically, they convert unused overhead space into productive storage space. Vertical Lift Modules store the same amount of parts and inventory as traditional bin shelving in 70% less floor space. Because Vertical Lift Modules use less floor space, you can build smaller buildings or lease less warehouse space, which saves energy and money on heating, cooling, and lighting your facility's parts storage area.
VLM Automated Parts Storage Machine Benefits
Saves more floor space than traditional bin storage methods
Ergonomic storage and retrieval work counter
Fast return on investment
Stores a wide range of part sizes
Locks to secure inventory
Protects parts from dust and insects
Streamlines the flow of materials and eliminates bottlenecks
Improves customer service because of faster response times to ordered parts and products
Prevents building expansions or using additional offsite storage facilities
Increases worker morale and attitudes
Contact SYSTEC for All Your GSA Contract Storage and Information Management Needs
SYSTEC is a national organization with a network of local sales and support representatives all across the United States. We service a variety of industries including: healthcare, government, justice, financial, professional services, insurance, museums and many more. Our products and services are available on GSA Schedule and TXMAS Contracts that allow you to get the best price on the best products and services while meeting your small business goals. Give us a call at 1-877-779-7832, send us an email, or visit us at GSA Advantage to find out more about how our products and services will meet your storage and information management needs.