Spacesaver Compact Shelving Makes Your Industrial Facility Space Efficient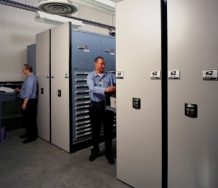 Spacesaver® Compact Shelving
makes your material handling or industrial facility more space efficient and productive. Typically, most of the aisle space within a storage system is not used at any given time.
Rolling Compactor Storage Shelves
take that wasted space and turn it into productive storage space. Mounting stationary pallets or shelves on rolling movable carriages that slide back and forth on floor tracks compacts your shelving to remove unnecessary access aisles and replaces them with movable access aisles based on your activity levels.
How Much Space Will You Save with Compact Shelving?
Rolling Compactor Storage Shelves take up less than half of floor space that stationary shelving and pallets use.  When you eliminate wasted aisle space with Compact Shelving, you will either double your existing storage capacity or free up space for other functional areas. Also, you can lease or build a smaller warehouse storage space or eliminate off-site storage usage.
What Can You Store in Rolling Compactor Storage Shelves?
Spacesaver Compact Shelving will store anything from a microchip to an aircraft engine. Some of the storage applications include:
Athletic equipment and sports gear
Large and small tools
Parts and materials
Shop supplies
Record and archival boxes
Your existing shelving or racks
Evidence, weapons, and uniforms
Mobility bags, guns, and knifes
Products and inventory
Spacesaver Compact Shelving Modes of Operation
Rolling Compactor Storage Shelves have two different modes of operation: mechanical assist hand crank systems and push button powered systems.
Powered Compact Shelving systems offer ease of use, protection, and security for all of your stored assets. When the job is large or demands safety and security, the fire protection, security, user safety and one touch operation of powered systems is the answer.
Mechanically assisted systems are designed with ergonomically designed handles with easy movement no matter what the weight load.
Contact SYSTEC for All Your GSA Contract Storage and Information Management Needs
SYSTEC is a national organization with a network of local sales and support representatives all across the United States. We service a variety of industries including: healthcare, government, justice, financial, professional services, insurance, museums and many more. Our products and services are available on GSA Schedule and TXMAS Contracts that allow you to get the best price on the best products and services while meeting your small business goals. Give us a call at 1-877-779-7832, send us an email, or visit us at GSA Advantage to find out more about how our products and services will meet your storage and information management needs.