Vertical Carousel Filing System Makes Filing Easier and More Efficient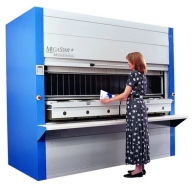 Did you know that your employees spend 50% of their filing time walking to the location of the file they want to retrieve or return? Also, generally 80% of your filing activity is spent on only 20% of your files. A
Vertical Carousel Filing System
brings files and stored items to the employee and takes up less space than traditional filing cabinets, which helps to eliminate wasted time and space.
A Vertical Carousel is a Powered Push Button File Cabinet System
A Vertical Carousel is a series of vertically arranged trays that hold all your files and stored items. When you push a button on an electronic keypad or request a file with a software system, the Vertical Carousel rotates to bring that file or item directly to you at an adjustable workstation. With this type of push button file cabinet, you can quickly and easily find one file out of thousands and it's delivered directly to you in seconds.
Vertical Carousel Filing Systems are Ergonomic and ADA Compliant
Vertical Carousel push button file cabinets eliminate work motions such as walking, stooping, bending, reaching, and searching. Employees will save time and reduce the risk of workplace injuries with Vertical Carousels. Also, they are ADA compliant.
Vertical Carousel Powered File Cabinets Store Anything
The Vertical Carousel File System is flexible enough to store almost any type of media. You can store letter and legal size folders, top tab and side tab folders, CDs, boxes, cards, office supplies, and more. Because you can centralize all of your stored items, you will be able to maximize and save floor space.
Contact SYSTEC for All Your GSA Contract Storage and Information Management Needs
SYSTEC is a national organization with a network of local sales and support representatives all across the United States. We service a variety of industries including: healthcare, government, justice, financial, professional services, insurance, museums and many more. Our products and services are available on GSA Schedule and TXMAS Contracts that allow you to get the best price on the best products and services while meeting your small business goals. Give us a call at 1-877-779-7832, send us an email, or visit us at GSA Advantage to find out more about how our products and services will meet your storage and information management needs.