Keep Military Weapons in One Place with Universal Weapon Racks and WeaponStor Cabinets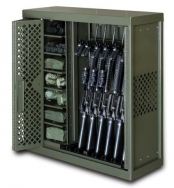 Universal Weapon Racks and WeaponStor Cabinets store a variety of military weapons including rifles, side arms, gear bags, and optics all in one place. The weapon racks and cabinets combine careful design and unrivaled features to create a complete weapon storage system that is completely dependable and immediately deployable in any situation. Keeping operational readiness in mind, the Universal Weapons Racks and WeaponStor Cabinets storage systems are flexible, versatile, and transportable.
Flexible Weapon Racks and Cabinets Maximize Armory Storage
The Universal Weapons Racks and WeaponStor Cabinets storage system maximizes military armory storage space within a compact footprint while keeping weapons highly secure.
Rigidity: Constructed of heavy-gauge steel, the fully welded racks and cabinets come in a variety of sizes to accommodate weapons of varying lengths and types. Durable welded and riveted hinges prevent tampering with doors.
Visibility: The perforated doors, sides and rear wall of the Universal Weapon Racks and WeaponStor Cabinets makes taking inventory easy, while keeping weapons stored and secure.
Security: Locking bars exceed military requirements for arms security of conventional arms, ammunitions, and explosives. The racks are designed to be ganged together from the inside – top-to-bottom, back-to-back, side-to-side – to meet security weight requirements of at least 500 lbs.
Bin Systems: A single Universal Weapon Rack or WeaponStor Cabinet may contain one, two or three vertical or horizontal bin systems. The bin system may be used to store gear, optics, ammo clips, ammo boxes, or spare barrels. Installing, removing or modifying the bin systems can be accomplished without any tools or fasteners.
Versatile Storage with Universal Weapon Racks and WeaponStor Cabinets
Versatile enough to store various combinations of rifles, sidearms and optics, the Universal Weapon Racks and WeaponStor Cabinets easily adapt to the changing needs of a transforming military.
Convenience: Weapon racks and cabinets keep the weapons in the condition they are used. Most optics and accessories can remain assembled and zeroed to the weapon while being stored.
Quick Reconfiguration: Just as quickly as your weapons change, the Universal Weapon Racks and WeaponStor Cabinets storage systems keep pace with a few minor interior adjustments.
Space Efficiency: Mounting the racks and cabinets on High Density Mobile Shelving lets you keep all of your unit's weapons in one central location and saves armory storage floor space.
Entirely Transportable Weapon Racks and Cabinets
The Universal Weapon Racks and WeaponStor Cabinets' transport components prevent weapons from movement, vibration, shock and abrasion.
Barrel Supports: The PVC-coated barrel supports reduce weapon abrasion and still provide quick and easy access with a simple lift of the strap.
Handles: Ergonomically placed handles with an integrated 90-degree stop, allow for easy gripping and a comfortable lift.
Cart: The Weapon Racks and Cabinets' transportability cart has industrial grade casters for smooth movement within and around your armory storage area.
Contact SYSTEC for All Your GSA Contract Storage and Information Management Needs
SYSTEC is a national organization with a network of local sales and support representatives all across the United States. We service a variety of industries including: healthcare, government, justice, financial, professional services, insurance, museums and many more. Our products and services are available on GSA Schedule and TXMAS Contracts that allow you to get the best price on the best products and services while meeting your small business goals. Give us a call at 1-877-779-7832, send us an email, or visit us at GSA Advantage to find out more about how our products and services will meet your storage and information management needs.