EvidenceStor Short-Term Evidence Storage Solution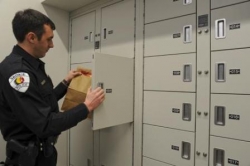 The
EvidenceStor short-term evidence storage
solution for law enforcement professionals is our
Temporary Evidence Lockers
that are specifically designed to provide an extremely secure chain of custody once evidence leaves the hands of the person who collected it, until it's properly logged and stored in the evidence and property room. Temporary Evidence Lockers serve as an airtight, unattended evidence drop-off system. Officers can securely deposit evidence day or night without having to deal with keys or combinations, or rely on an evidence technician to be called in after hours. We offer two types of Temporary Evidence Storage Lockers: Pass Thru and Non Pass Thru.
Pass Thru Temporary Evidence Lockers
Pass Thru Temporary Evidence Lockers are built into the wall that separates the drop-off area from the property and evidence storage room. This allows the officer to deposit the evidence on one side while the technician retrieves it from the other side. Because the door on the evidence technician's side is full-size, they can easily remove all the items and reset the locker openings on the officer's side for use.
An optional front-lock-out system can be used to automatically lock the front doors when the rear door is opened to prevent unauthorized access to the evidence and property room through an unlocked evidence locker opening. Also available is a mesh rear door for a visual accounting of evidence storage.
Non Pass Thru Temporary Evidence Lockers
With Non Pass Thru Temporary Evidence Lockers, the officer deposits the evidence and the technician retrieves it from the same self-closing doors without the need for keys or combination locks. The evidence can only be removed by authorized personnel. In addition the Non Pass Thru Temporary Evidence Lockers easily mount against a wall for an easy conversion to a pass thru configuration in the future.
Temporary Evidence Lockers Features
Some of the design features of the EvidenceStor short-term evidence storage lockers include:
Keyless push button deposit and retrieval
Multipoint deadbolt locking system
Heavy-duty steel construction
Streamlined functionality
Space optimization
Choices from 30 standard configurations
Ergonomic Toe Kicks
Powder coat finish resists rust and scratches
Contact SYSTEC for All Your GSA Contract Storage and Information Management Needs
SYSTEC is a national organization with a network of local sales and support representatives all across the United States. We service a variety of industries including: healthcare, government, justice, financial, professional services, insurance, museums and many more. Our products and services are available on GSA Schedule and TXMAS Contracts that allow you to get the best price on the best products and services while meeting your small business goals. Give us a call at 1-877-779-7832, send us an email, or visit us at GSA Advantage to find out more about how our products and services will meet your storage and information management needs.