Steel Casework and Metal Cabinets and Counters are Durable and Long Lasting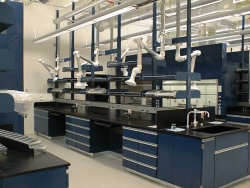 Our
Steel Casework
and
Metal Cabinets and Counters
come in numerous different colors and are painted with an epoxy powder coat. Epoxy Powder Coated Steel Casework has distinctive advantages: a flat surface that can easily be cleaned, the durability to withstand harsh chemicals and scrapes, and a modular design that makes it long lasting.
Steel Casework and Metal Cabinets and Counters are designed for renewed use. That means they are easily repairable, can be used for many different applications, and are built using recyclable materials, which is good for the environment.
Benefits of Epoxy Powder Coat Steel Casework, Cabinets, and Counters
Some of the benefits of Epoxy Powder Coated Steel Casework, Cabinets and Counters include:
using recycled materials that are good for the environment
unvarying and consistent quality on all casework, cabinets, and counters
ability to relocate and reuse the metal casework in new locations
reusing stainless and metal casework reduces disruptions, construction noise, dust, and contractors (security) into your facility
strong and resilient enough to stand up to daily habitual use
variety of different design options to match your décor
fast installation times because the steel casework and metal cabinets and counters are pre-engineered
Contact SYSTEC for All Your GSA Contract Storage and Information Management Needs
SYSTEC is a national organization with a network of local sales and support representatives all across the United States. We service a variety of industries including: healthcare, government, justice, financial, professional services, insurance, museums and many more. Our products and services are available on GSA Schedule and TXMAS Contracts that allow you to get the best price on the best products and services while meeting your small business goals. Give us a call at 1-877-779-7832, send us an email, or visit us at GSA Advantage to find out more about how our products and services will meet your storage and information management needs.