Stainless Steel Casework is Excellent for Using in Hospitals, Laboratories, and Commercial Businesses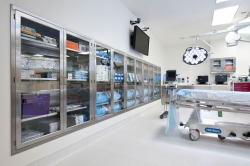 Stainless Steel Casework
is a great furniture solution for hospitals, laboratories, and commercial businesses because it is flexible, cost effective, and easy to sanitize. Stainless Steel Casework is not built into the walls or floor, so it can be reused, reconfigured, and relocated any time you need to make a change. This keeps costs down and provides your facility with many options on how to use your space. Another reason to use Stainless Steel Casework is that it works great in areas that might get wet and is easy to clean.
Benefits of Stainless Steel Casework Furniture
Stainless Steel Casework furniture
assists in preventing germs from spreading
comes in many different options, from sinks, to adjustable shelves, to self closing drawers, the possibilities are endless
is a good choice for areas that are subject to high moisture and everyday cleaning as well as harsh scrapes and mistreatment.
is easy to sanitize, which makes it just the thing for hospitals, laboratories, and commercial businesses
has a tough surface that can handle water, heat, and general mistreatment.
won't rust or get damaged do to humidity and moisture
is unaffected by a wide range of chemicals
Contact SYSTEC for All Your GSA Contract Storage and Information Management Needs
SYSTEC is a national organization with a network of local sales and support representatives all across the United States. We service a variety of industries including: healthcare, government, justice, financial, professional services, insurance, museums and many more. Our products and services are available on GSA Schedule and TXMAS Contracts that allow you to get the best price on the best products and services while meeting your small business goals. Give us a call at 1-877-779-7832, send us an email, or visit us at GSA Advantage to find out more about how our products and services will meet your storage and information management needs.