EvidenceStor Biological Storage Solutions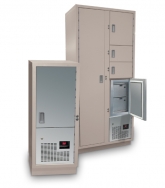 The
EvidenceStor biological storage solution
for law enforcement professionals is our
Refrigerated Evidence Locker
that ensures the integrity of critical biological evidence that can make or break a case. The small and large size Refrigerated Evidence Lockers are specifically engineered to maintain a constant temperature of 38 to 42 degrees Fahrenheit for highly secured and well preserved DNA and biological storage. Refrigerated Evidence Lockers have the same performance, reliability and security as our
Temporary Evidence Lockers
and they also have pass-thru and non-pass-thru functionality.
Refrigerated Evidence Locker Features and Benefits
Here are just some of the features and benefits of our Refrigerated Evidence Lockers:
All Refrigerated Evidence Lockers come with a built in digital alarm to notify authorized personnel of temperature fluctuations (if the door is left open)
Refrigerated Evidence Lockers will maintain a constant 38-to-42 degrees
Air circulating fan eliminates hot or cold spots
Stainless steel double-wall interior
Drain hubs are not required in the Refrigerated Evidence Lockers because of the standard built in condensate removal system
Lockable inserts are interchangeable to accommodate changing sizes of biological storage boxes and containers
The full-size Refrigerated Evidence Lockers offer 4–24 compartments in various sizes
Both the pass-thru and non pass-thru styles do not require keys to deposit samples
Refrigerated Evidence Lockers have a push-button, keyless lock system
Magnetic seals are located on the on front and rear doors of the Refrigerated Evidence Lockers
There are a variety of lockable compartments
Contact SYSTEC for All Your GSA Contract Storage and Information Management Needs
SYSTEC is a national organization with a network of local sales and support representatives all across the United States. We service a variety of industries including: healthcare, government, justice, financial, professional services, insurance, museums and many more. Our products and services are available on GSA Schedule and TXMAS Contracts that allow you to get the best price on the best products and services while meeting your small business goals. Give us a call at 1-877-779-7832, send us an email, or visit us at GSA Advantage to find out more about how our products and services will meet your storage and information management needs.