Make Mixed Media Storage Easy and Efficient with MediaStor Multimedia Cabinets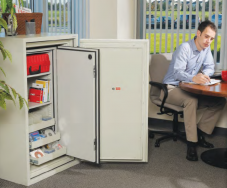 It can be a challenge for libraries, government offices, and data centers to find enough multimedia storage space to house a growing video tape or media collection. Lateral file cabinets and fixed shelving don't always provide the flexibility needed for mixed media storage, and they waste precious floor space because they aren't made to store video tapes, DVDs, CDs, USB drives and other media. Our
MediaStor multimedia cabinets
are specifically designed to house large volumes of multimedia products and will maximize your floor space while improving organization and efficiency.
A Variety of Mixed Media Storage Options and Multimedia Cabinets
Whether you need CD storage cabinets, DVD storage cabinets, microform storage, or roll film cartridge storage cabinets, we have a multimedia storage solution for you that will fit any floor space requirement. Choose from a wide array of mixed media storage systems including MediaStor multimedia cabinets, media storage carousels, multimedia storage shelving, and multimedia storage carts. Our multimedia cabinets, including high density multimedia storage cabinets, are modular and flexible so that they meet your changing needs.
Contact SYSTEC for All Your GSA Contract Storage and Information Management Needs
SYSTEC is a national organization with a network of local sales and support representatives all across the United States. We service a variety of industries including: healthcare, government, justice, financial, professional services, insurance, museums and many more. Our products and services are available on GSA Schedule and TXMAS Contracts that allow you to get the best price on the best products and services while meeting your small business goals. Give us a call at 1-877-779-7832, send us an email, or visit us at GSA Advantage to find out more about how our products and services will meet your storage and information management needs.