Spacesaver Mobile Shelving Saves Space and Increases Your Storage Capacity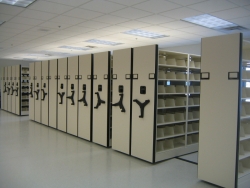 Spacesaver® Mobile Shelving
, also called
MobilStor Rolling High Density Storage
, will revolutionize your storage space. Mobile Shelving gets rid of stationary aisles between shelves by condensing the shelves together and creating a movable access aisle. Converting stationary storage shelving to Spacesaver Mobile Shelving will easily double your storage capacity in the same floor space area, or reduce your storage floor space area by half.
Types of MobilStor Rolling High-Density Storage
There are two types of MobilStor Rolling High-Density Storage: mechanical assist and powered. A mechanical assist high-density storage system is controlled by the operator rotating a spoke-like handle, while the powered system is controlled by simply pushing a button and letting the system do all of the work. Each Rolling High-Density Storage system has its own features and benefits, so it is up to you to decide what will work best for your business.
Mechanical Assist High-Density Storage
Engineered to be one of the most strong and durable high-density storage systems to last year after year
Ergonomically designed handles create natural and easy movement for accessing stored items within the mobile shelving
Safety lock with a clear visual display showing lock status stops unwanted movement
Control access to any or all aisles with optional hub locks
Welded steel construction has no fasteners to loosen or break, which helps maintain carriage alignment no matter how much your high-density storage system is used
All carriages have a minimum 1000 lb. per foot load capacity to handle whatever you're storing in the mobile shelving
The face panel finish comes in a variety of colors that exceed the most stringent scuff, scratch and chip requirements
Powered High-Density Storage
Available in a wide array of colors, finishes, and end-panel materials that can be customized to match your décor
Optional overhead lighting makes accessing the mobile shelving safer and easier because you can automatically light up just one aisle of the entire high-density storage system
Just about any storage housing can be mounted on the mobile shelving carriages including case-type, four-post, cantilever shelving, and even your existing shelving or cabinets
The mobile shelving easily accommodates drawers, bins, trays, lateral files, doors, industrial rack shelving, and storage accessories
A variety of ways to operate the mobile shelving from the standard face panel control, an optional infrared-capable control or an optional touchpad aisle access control
State of the art standard and optional automatic passive safety systems protect personnel and stored items
Contact SYSTEC for All Your GSA Contract Storage and Information Management Needs
SYSTEC is a national organization with a network of local sales and support representatives all across the United States. We service a variety of industries including: healthcare, government, justice, financial, professional services, insurance, museums and many more. Our products and services are available on GSA Schedule and TXMAS Contracts that allow you to get the best price on the best products and services while meeting your small business goals. Give us a call at 1-877-779-7832, send us an email, or visit us at GSA Advantage to find out more about how our products and services will meet your storage and information management needs.