Use Mobile Art Racks and ArtStor Pullout Panels for Efficient Artwork Storage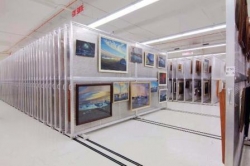 Our
artwork storage
systems,
Mobile Art Racks
and
ArtStor Pullout Panels
, require less space to store your collection, which will double your artwork storage capacity in the same area. The racks and panels will display your collection, which makes it easier to keep track of and inventory artwork. In addition, storing your artwork in Mobile Art Racks and ArtStor Pullout Panels keeps it off the floor and protected.
Save Space with Mobile Art Racks and ArtStor Pullout Panels
The Mobile Art Racks are mounted on carriages that move on steel rails. By sliding the rows of racks from side to side, the system is able to eliminate space-wasting, idle aisles and compact the stored artwork into a much smaller footprint than any stationary system while still providing 100 percent access whenever needed.
The ArtStor Pullout Panels are hand controlled and ceiling mounted. To access stored artwork, you simply pull a handle and the panel glides out. The ArtStor Pullout Panels provide a smooth and easy operation that won't disturb any of your stored collection.
Features and Benefits of the Mobile Art Racks and ArtStor Pullout Panels
There are numerous features and benefits of the Mobile Art Racks and ArtStor Pullout Panels including,
The double-sided wire mesh is flush with frame on both sides and with the posts, which gives you unlimited flexibility for arranging stored artwork.
The steel construction makes the Mobile Art Racks and ArtStor Pullout Panels very durable and strong so that they will last.
The powder-coat painted panels and carriages keep artwork safe from off-gassing and will match any décor.
Wall Mount Panels come standard with mounting brackets and rectangular mesh screen on one side.
Contact SYSTEC for All Your GSA Contract Storage and Information Management Needs
SYSTEC is a national organization with a network of local sales and support representatives all across the United States. We service a variety of industries including: healthcare, government, justice, financial, professional services, insurance, museums and many more. Our products and services are available on GSA Schedule and TXMAS Contracts that allow you to get the best price on the best products and services while meeting your small business goals. Give us a call at 1-877-779-7832, send us an email, or visit us at GSA Advantage to find out more about how our products and services will meet your storage and information management needs.