Modular Mailroom Furniture is a Flexible and Cost-Effective Storage Solution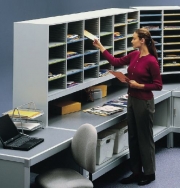 Mail room facilities need furniture that will meet their constantly changing needs. As mail volume and personnel fluctuate, your mailroom furniture will have to be adjusted too, which is why mailroom sorters, tables, and cabinets need to be modular.
Modular mailroom furniture
offers a flexible and cost-effective active document storage solution when compared to millwork construction. We have modular mailroom furniture that will make sure mail and documents efficiently flow through your organization and safely reach their final destination.
Make Your Mail Room Facility More Efficient with Modular Mailroom Furniture
Our mailroom furniture is designed to make your mail room facility operate at its best. We offer mailroom sorters and tables that come in a wide range of heights, widths, and depths that are easily adjustable. Your employees will have ergonomic access to mail and documents because our furniture can accommodate standing or sitting heights. They also won't have to worry about injuries to their hands because there are no sharp metal shelf edges.
We also carry a wide range of accessories like shelves, labels, drawers, and doors to help increase efficiency and security. Our mailroom furniture also comes in many different standard colors to help employees with color recognition while sorting and to match your office décor.
Mail Room Sorters, Tables, and Cabinets to Keep You Organized
Freestanding Sorters: Freestanding and stand alone mailroom sorters offer exceptional adjustability and labeling features that will make the most of your mail room facility.
Mail Room Tables: Mailroom sorting tables and cabinets come in numerous styles and heights to assist mail room personnel.
Pass Through Sorters: Pass through mail slots are mounted into the office walls, which makes mail distribution fast and easy.
Mail Room Carts: Mail carts come with ergonomic handles and over-sized wheels to help employees easily navigate around any obstacles.
Contact SYSTEC for All Your GSA Contract Storage and Information Management Needs
SYSTEC is a national organization with a network of local sales and support representatives all across the United States. We service a variety of industries including: healthcare, government, justice, financial, professional services, insurance, museums and many more. Our products and services are available on GSA Schedule and TXMAS Contracts that allow you to get the best price on the best products and services while meeting your small business goals. Give us a call at 1-877-779-7832, send us an email, or visit us at GSA Advantage to find out more about how our products and services will meet your storage and information management needs.