Spacesaver Library Shelving Meets the Needs of Today's Libraries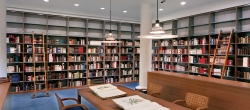 Today's libraries are more than just bookcases filled with traditional education information. They have evolved into learning centers, meeting facilities, and launch pads into cyberspace. Libraries are also facing the need give their users convenient access to information while providing ambiance and comfortable furnishings in order to compete with retail bookstores. With this evolution, library bookcases need to be more flexible and better looking than ever. Fortunately,
Spacesaver® Library Shelving
and
Cantilever Book Shelves
meet all of these requirements.
Features and Benefits of Spacesaver Library Shelving and Cantilever Book Shelves
Richly designed, ADA compliant Spacesaver Library Shelving and Cantilever Book Shelves are ideal for academic, corporate, public, medical, and legal libraries because they,
Are engineered for steadiness, durability, and resilient functionality. Their sturdy, heavy-gauge steel, welded-frame construction meets or exceeds American Library Association standards for structural integrity.
Are easy to assemble, disassemble and reassemble. Spacesaver Library Shelving and Cantilever Book Shelves are designed to be easily modified as your library storage needs change and evolve.
Give you practically endless design choices. Spacesaver Library Shelving and Cantilever Book Shelves come in a variety of colors, end panel materials, and finishes that will provide an aesthetically pleasing look to any library.
Have powder-coat paint finishes that will protect your bookcases from scuffs, scratches and chips.
Put Library Shelving on Tracks to Create Space Saving Rolling Bookcases
By mounting your Spacesaver Library Shelving or Cantilever Book Shelves on tracks, you can create rolling bookcases. The rolling bookcases will double your existing library storage space because the system compacts the shelving together to eliminate unnecessary access aisles and replaces them with one or two movable aisles. Rolling bookcases are perfect for the ever-growing periodical and reference manual sections of your library.
Contact SYSTEC for All Your GSA Contract Storage and Information Management Needs
SYSTEC is a national organization with a network of local sales and support representatives all across the United States. We service a variety of industries including: healthcare, government, justice, financial, professional services, insurance, museums and many more. Our products and services are available on GSA Schedule and TXMAS Contracts that allow you to get the best price on the best products and services while meeting your small business goals. Give us a call at 1-877-779-7832, send us an email, or visit us at GSA Advantage to find out more about how our products and services will meet your storage and information management needs.