Create the Perfect Lab with Laboratory Casework and LabStor Modular Cabinets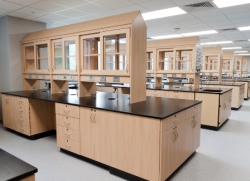 Use
Laboratory Casework
and
LabStor Modular Cabinets
to create the perfect lab. The Laboratory Casework can be specified with solid phenolic resin work surfaces and a built-in sink to stand up to abrasive and corrosive chemicals. You can securely store expensive equipment like microscopes in lockable drawers and doors with individually keyed locks. In addition, the casework and modular cabinets have conveniently located data ports and electrical and gas outlets. This is just an example of what we can do with Laboratory Casework and LabStor Modular Cabinets.
Laboratory Casework and LabStor Cabinets Give You Unlimited Options for Your Lab
Laboratory Casework and LabStor Cabinets are exactly the same as traditional built-in furniture with one major difference – they are modular. This means every component can be easily adjusted, replaced, reconfigured, or moved whenever you want. Also, Laboratory Casework and LabStor Cabinets give you unlimited options for materials and layout for your lab including,
Numerous different kinds of freestanding upper and lower LabStor Modular Cabinets
Work surfaces for your Laboratory Casework include epoxy resin, phenolic resin, lab grade laminate, solid maple, stainless steel, or natural stone
Fixtures including faucets, sinks, task lighting, electrical outlets, and data connections can be added to the Laboratory Casework
Accessories like pegboards, drying racks, and computer monitor peripherals
Laboratory Casework and LabStor Modular Cabinets for All Labs
There isn't just one type of lab, so we provide Laboratory Casework and LabStor Modular Cabinets for everyone.
Clinical Labs
Medical Labs
Forensic Labs
Research Labs
Chemical Labs
University Labs
K-12 Labs
Contact SYSTEC for All Your GSA Contract Storage and Information Management Needs
SYSTEC is a national organization with a network of local sales and support representatives all across the United States. We service a variety of industries including: healthcare, government, justice, financial, professional services, insurance, museums and many more. Our products and services are available on GSA Schedule and TXMAS Contracts that allow you to get the best price on the best products and services while meeting your small business goals. Give us a call at 1-877-779-7832, send us an email, or visit us at GSA Advantage to find out more about how our products and services will meet your storage and information management needs.