We Offer File Folder Conversions to Make Your Information Management System More Efficient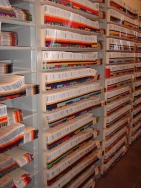 Does your company have files that need to be converted to a more efficient information management system?  Our team of conversion experts can help you convert your file folders quickly and cost effectively. We can manage your
file folder conversion
project, while minimizing interruption to your daily business operation.
Some of our conversion services include:
Top-tab to end-tab file folder conversions (transferring file contents of top-tab folders to end-tab folders)
Re-labeling and reorganizing files (applying color-coded labels to folders and resorting the sequence of files)
Applying conversion tabs to file folders (attaching file folder conversion tabs to existing top-tab file folders)
Bar code application (applying bar code labels to folders)
Document classification preparation (preparing and organizing documents for image scanning)
Outsourcing your file folder conversion project to experts minimizes the disruption to your normal office operations.  Our file folder conversions team has the knowledge and experience to complete your conversion project properly and quickly.
We Provide Document Scanning to Convert Your File Folders to Digital Images
Whether you need a few hundred or hundreds of thousands of documents scanned, imaging will take them to the next level of document management. From document preparation through scanning and document storage, we can provide complete file folder conversion services from paper to digital and microforms to digital. Our integrated document imaging solutions increase efficiency, reduce costs, enhance customer service and create critical backups in the event of a natural disaster.
We Have Name Label File Printing Software to Help Organize Records and Documents
Name label file printing software helps organize and sequence your records for accurate filing and fast data retrievals. You can create custom designed labels, color coded labels, and print labels as needed with your own label file printing software.
Our consultants specialize in file folder conversions, document scanning, and name label file printing software systems to make your information management system more efficient.
Contact SYSTEC for All Your GSA Contract Storage and Information Management Needs
SYSTEC is a national organization with a network of local sales and support representatives all across the United States. We service a variety of industries including: healthcare, government, justice, financial, professional services, insurance, museums and many more. Our products and services are available on GSA Schedule and TXMAS Contracts that allow you to get the best price on the best products and services while meeting your small business goals. Give us a call at 1-877-779-7832, send us an email, or visit us at GSA Advantage to find out more about how our products and services will meet your storage and information management needs.