Spacesaver Box Shelving and Static Racks Efficiently Store Record File Boxes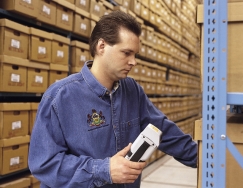 A great way to efficiently store record file boxes is with
Spacesaver Box Shelving
and
Static Racks
. Box Shelving and Static Racks will give you easy access to file boxes, protect the documents inside the box, maximize your floor space, and keep employees safe when retrieving record file boxes.
Keep Your Office Safe and Store Record File Boxes in Shelving and Racks
Keeping record file boxes stacked on the floor can be hazardous for your office. Here are just a few of the penalties of not keeping your boxes in Box Shelving or Static Racks:
Employees might be injured lifting heavy boxes
Insects and Rodents have better access to boxes left on the floor
Water can damage record file boxes
Employees will get frustrated spending so much time looking for boxes
Record file boxes will take over too much floor space
Boxes might block access aisles and prevent your office from meeting ADA guidelines
File boxes might get crushed by the weight of other boxes
Benefits of Spacesaver Box Shelving and Static Racks
If you want to avoid the pitfalls of unorganized and improperly stored record file boxes, store them in Spacesaver Box Shelving and Static Racks to reap these benefits:
Employees only need to lift the one box they need to retrieve which means no more back injuries
Boxes are lifted off the floor and protected from insects and rodents
Record file boxes are safe from water
Employees can easily see all the boxes to find the one they need
Floor space is recovered because boxes are now organized on shelves
Aisle access and ADA compliance is maintained
Boxes are secure on shelves and can't be crushed
Box Shelving and Static Racks to Meet Your Needs
Spacesaver Box Shelving and Static Racks are easy to change and modify to meet your record file box storage needs. File boxes stored in Spacesaver Shelving and Racks will fit comfortably within the units without wasting any space. The shelves can also be modified and changed if you boxes change size or you want to change your box storage configuration. For instance, one configuration change you can make is to mount your Spacesaver Box Shelving on tracks. This will create a mobile shelving system that will allow you to store even more record file boxes in even less floor space.
Contact SYSTEC for All Your GSA Contract Storage and Information Management Needs
SYSTEC is a national organization with a network of local sales and support representatives all across the United States. We service a variety of industries including: healthcare, government, justice, financial, professional services, insurance, museums and many more. Our products and services are available on GSA Schedule and TXMAS Contracts that allow you to get the best price on the best products and services while meeting your small business goals. Give us a call at 1-877-779-7832, send us an email, or visit us at GSA Advantage to find out more about how our products and services will meet your storage and information management needs.